Delivery – Online and Mobile Asynchronous Learning: Students can complete this highly engaging and interactive course on any Apple iOS, android phone, tablet, or desktop computer. The course can be accessed anytime and anywhere.
20 hours/8 weeks maximum
Description
This interactive course allows students to better understand mental health issues and caregiving strategies that may be encountered with clients in a personal care setting. An overview of the history, underlying medical causes, and potential impacts will be addressed. While mental health will be addressed broadly, specific topics will include acquired brain injuries, post-traumatic stress, substance abuse, delirium, dementia, schizophrenia spectrum disorders, bipolar, depression, anxiety obsessive-compulsive, eating and sleep disorders.
Upon successful completion of this course participants will be issued both a digital badge and certificate of completion, affirming that they have achieved the competencies and objectives of the course.
---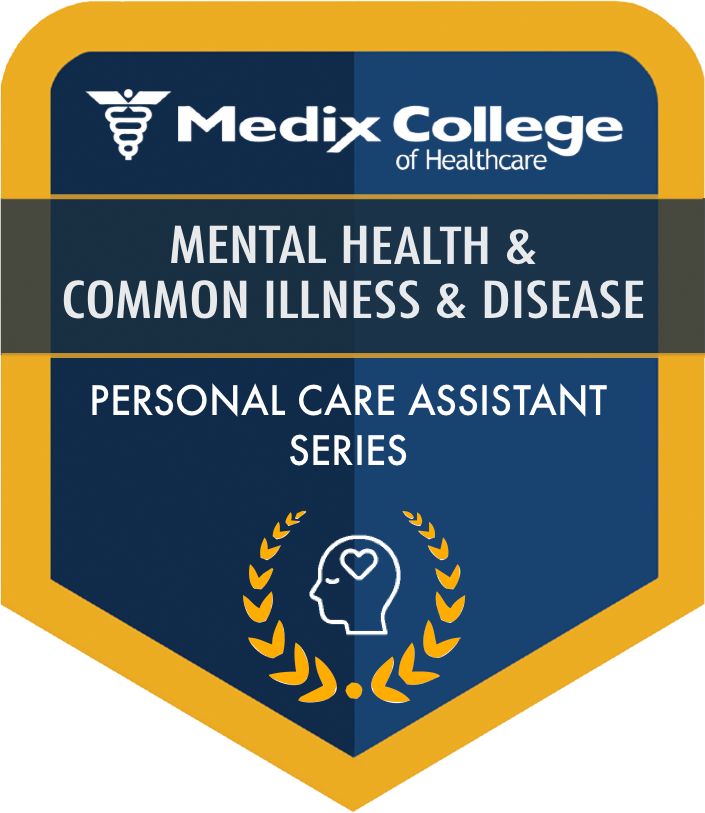 Competencies and Objectives:
Knowledge:
Understand the stigma associated with mental illness, acquired brain injury and dementia and the impact that these conditions have on a person's functional and cognitive abilities, and overall quality of life.
Describe the signs and symptoms of mental illness, dementia and acquired brain injury and the precipitating factors for suicide risk.
Explore the factors that may influence responsive behaviors in the selection of appropriate supportive strategies that best meet the individual needs and expectations of clients and families.
Skills:
Demonstrate sensitivity to the diverse values, beliefs and needs in promoting a safe and comfortable environment for clients with mental illness, dementia and acquired brain injury.
Apply critical thinking and problem-solving skills in effectively managing challenging client and environmental situations.
Communicate with clients across the lifespan, family caregivers and interprofessional team members in a courteous and professional manner, appropriately using written, verbal and nonverbal methods.
Identify the legislation and ethical principles that are relevant to the personal support worker role in relation to mental illness, dementia, acquired brain injury and crisis intervention.
Recognize that unexpected consumer/client behavior requires an immediate response as well as a report to the supervisor.
Modules:
Introduction to Mental Health Disorders
Acquired Brain Injuries (ABI)
Schizophrenia Spectrum Disorders
Bipolar and Related Disorders
Depressive Disorders
Anxiety
Post-Traumatic Stress Disorder (PTSD)
Obsessive-Compulsive and Related Disorders
Eating Disorders
Sleep Disorders
Suicidal Behavior Disorder
Disruptive, Impulse-Control, and Conduct Disorders
Substance-Related and Addictive Disorders
Personality Disorders
Disorientation and Delirium
Dementia
Caring for Clients with Mental Health Disorders
Cost – $250